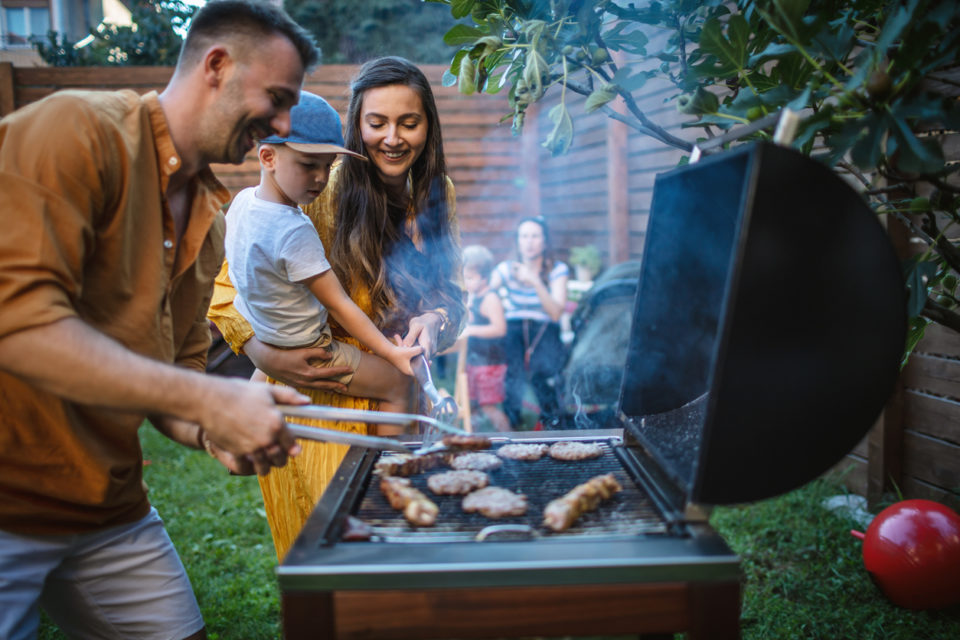 It's warm outside, and the grill is calling your name. But, before you fire up the grill this weekend, check out these tips for making the most incredible grilled meat and veggies your family and friends have ever tasted.
 Basic Grill Master Tips
Clean the grill. The most basic first step to making great BBQ is to clean the grill before you get started. If you haven't used your grill in a while, make sure to give it a goo scrub before you fire it up. Even if you used it under a week ago, it's a good idea to scrub it down with a metal brush just in case.  Any cooked-on food from last week will leave an unpleasant char on tonight's dinner.
Get a meat thermometer. Unless you're a very experienced cook, a meat thermometer can help you identify when your meat is rare, medium, or well-done. It will boost your confidence as a grill master and make sure you're serving meat that is safe to eat.
Get a spray bottle to control flames. Flames will char your food and cause it to cook too quickly.
Grill Master Cooking Tips
Don't squeeze out the flavor. Fat is where all the flavor of meat lives. So, to maintain the juicy flavor of your meat, avoid squeezing or flattening it. If you do, you'll squeeze out the fat and moisture.
If you're cooking for a crowd, just choose a few types of meat and offer a variety of side dishes. Why? Because managing the various cook times of different proteins can become stressful and may result in overcooked or undercooked meat.
You might also like: Come See Us At The Cattle Barons Ball, Hooks Baseball Game, & The Buc Days Parade
Prepping and Serving Tips
To make sure your selection of meat cooks through evenly, avoid putting it on the grill cold. Instead, let it warm on the counter for about 30 minutes first.
Here's a seemingly odd suggestion: remove your food a little before it is completely done. The food will continue to cook when it leaves the grill and the internal temperature will increase by about five degrees.
Allow all of your meat to rest for at least 15 minutes before serving it. Resting the meat allows the juices to redistribute more evenly. The bigger the piece of meat is the more time it will need to become a succulent and juicy morsel of grilled perfection.
Disclaimer: The stock image is being used for illustrative purposes only, and it is not a direct representation of the business, recipe, or activity listed. Any person depicted in the stock image is a model.