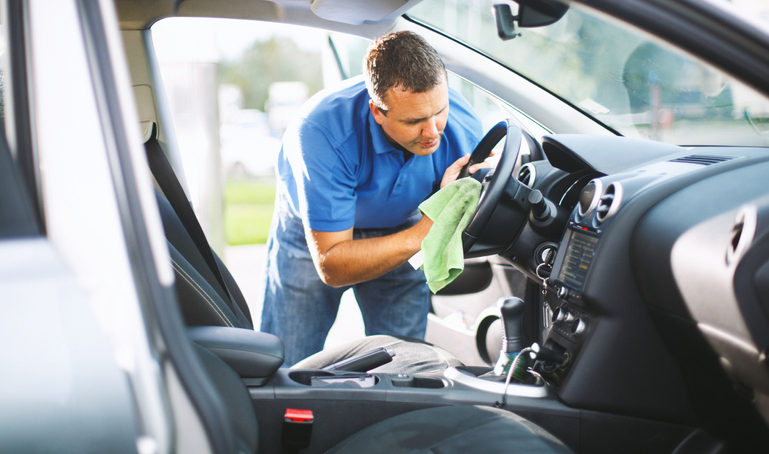 There is nothing quite as satisfying as having your car nice and clean. While you can run through the car wash to clean the exterior, you may need to take a few more steps to have the car cabin cleaned. Do not fork out money on a team to detail your car when you can easily do it yourself with a few supplies. Car and Driver offers helpful insight on how to clean your car's interior.
Cleaning Items Needed
You will need to have quality supplies to properly clean your vehicle's interior. Most of these items you probably already have in your cleaning closet:
Disinfecting wipes
Glass window cleaner
Microfiber cloth
Vacuum with attachments
Sponge
Stiff-bristle scrub brush
Bucket
Duster
Spray bottle
While these are standard cleaning tools you have already for other household cleaning tasks, there may be a few more car-specific tools you will want to invest in. Such equipment includes:
Crevice cleaning tool kit
Leather cleaner
Carpet cleaner
Detailing Your Cabin Step by Step
Cleaning the interior of a car can seem like madness with all the intricate parts that make up the cabin, but when you clean your vehicle, there should be a method to the madness. To clean your car's interior, you should:
Take the floor mats out of your car – Do not clean around your floor mats. Crumbs, dirt, and more can gather around and under your car's floor mats. Take the mats out of the car, give them a good shake, vacuum the mats, and cleaning them with cleaner and a brush or with disinfecting wipes. Be sure to vacuum the area that was under the floor mats.
Vacuum – With your vacuum, thoroughly clean the entire interior. Make use of the vacuum's attachments to reach those difficult crevices.
Dust & Disinfect – For the parts of the vehicle that are made from plastic or other hard surfaces, you will want to dust as well as disinfect those areas. This includes the dashboard, door handles, and center console. You will be able to see the dust collecting on the dashboard, if left unattended. You may be less aware of the presence of germs, but they are there. Your hands are constantly opening and closing your car doors, placing things in your center console, and adjusting knobs and vents on the dashboard, so do not pass the step of disinfecting these areas with cleaner or wipes.
Clean Interior Windows – Whether you have kids with smudgy fingers, a dog that likes to lick the interior glass, or you have experienced a fogged up glass, you will want to clean the interior windows well. For the best results, you will want to use a cleaner that is specifically intended for glass, specifically an ammonia-free glass cleaner.
Clean the Car Seats – It does not matter if your seats are leather or some other fabric. You need to clean the seats of your car. For leather seats, use a leather cleaner. For carpeted seats, you will want to incorporate an upholstery cleaner.
You might also like: Have A Night Out At Luciano's
Ride in Clean Style
Feel good behind the wheel of your car. When you follow these steps to cleaning your vehicle's interior, you can ride in clean style on the roads of Corpus Christi. Take care of your car by regularly cleaning it.
Disclaimer: The stock image is being used for illustrative purposes only, and it is not a direct representation of the business, recipe, or activity listed. Any person depicted in the stock image is a model.