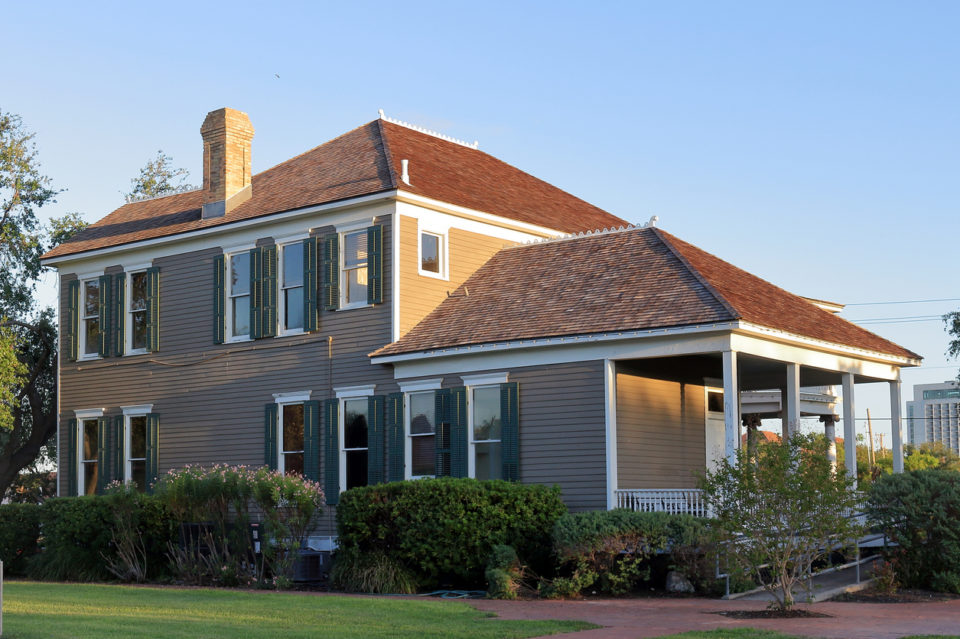 Corpus Christi's Heritage Park is home to the city's cultural center. The area features 12 historic homes that date back to the mid-1800s, including the Britton-Evan Centennial House, which is considered one of the best examples of classical revival architecture on the Texas coast. The houses, many of which have state historic designations, have been relocated to the park.
Heritage Park serves as a tribute to the ethnic diversity and culture of the area. Once you begin your stroll through the park, you'll immediately notice that each home tells a story about the early residents of Corpus Christi. One such house, the Littles-Martin House, was formerly home to one of the first African American natives in Corpus Christi.
Walking Tour of Heritage Park
Each house located within the park is rich in architecture, history, and culture. As you walk around, be sure to take a look at the historic markers that sit outside each home.
French-Galvan House

 – The house was originally built in 1908 by A.M. French. It was purchased by the Galvan family in 1942. Rafael Galvan was the first Mexican-American police officer in Corpus Christi.

Grande-Grossman House

 – Originally built in 1904 by Ben Grande. Purchased by Ida Grossman Cohen in 1925.

Ward-McCampbell House

 – This home was built in 1908. The original owner was Mary Alice Ward McCampbell, who is said to haunt the house following her death in 1919 of pneumonia.

Jalufka-Govatos House

 – Built by James Jalufka in 1905.

Merriman-Bobys House

 – Was home to Anna and Walter Merriman, whose nephews both fought in the Civil War. The house was originally built in 1851, which is one year before Corpus Christi became officially incorporated.

Gugenheim House

 – This house was one of the few Victorian homes to survive the Hurricane of 1919.

Littles-Martin House

 – This home was given to the Littles family by John G. and Marie Stella Kenedy. Hattie Moore and Willis Littles were believed to be the first black natives and first black Catholics of Corpus Christi.

Sidbury House

 – This house was built in 1893 and served as a rental property for Mrs. Charlotte Cook Scott Sidbury. Sidbury was a rancher, bank director, and lumber manager.

Julius Lichtenstein House

 – This house was originally built on the site of The Ritz Theater.

Lawrence House

 – Was home to Theodore Merchant Buddy Lawrence, who sent the first shipment of vegetables from Corpus Christi, which went to San Antonio.

Steamboat House

 – The Steamboat House was built in 1890 by Capt. W.T. Ropes. His brother originally purchased Mustang Island.

Britton-Evans Centennial House

 – This is the oldest building in Corpus Christi. It was built between 1849 and 1850 by Capt. Forbes Britton.
You might also like: Adopt A Vehicle Maintenance Schedule
Directions
Heritage Park is located at 1581 N. Chaparral Street. For more information, feel free to reach them at (361) 826-3411. The park is also available for weddings and special occasions, such as meetings, private rentals, and community events. To set up an appointment for a special event, contact the park's staff at (361) 826-3414.
Disclaimer: The stock image is being used for illustrative purposes only, and it is not a direct representation of the business, recipe, or activity listed. Any person depicted in the stock image is a model.